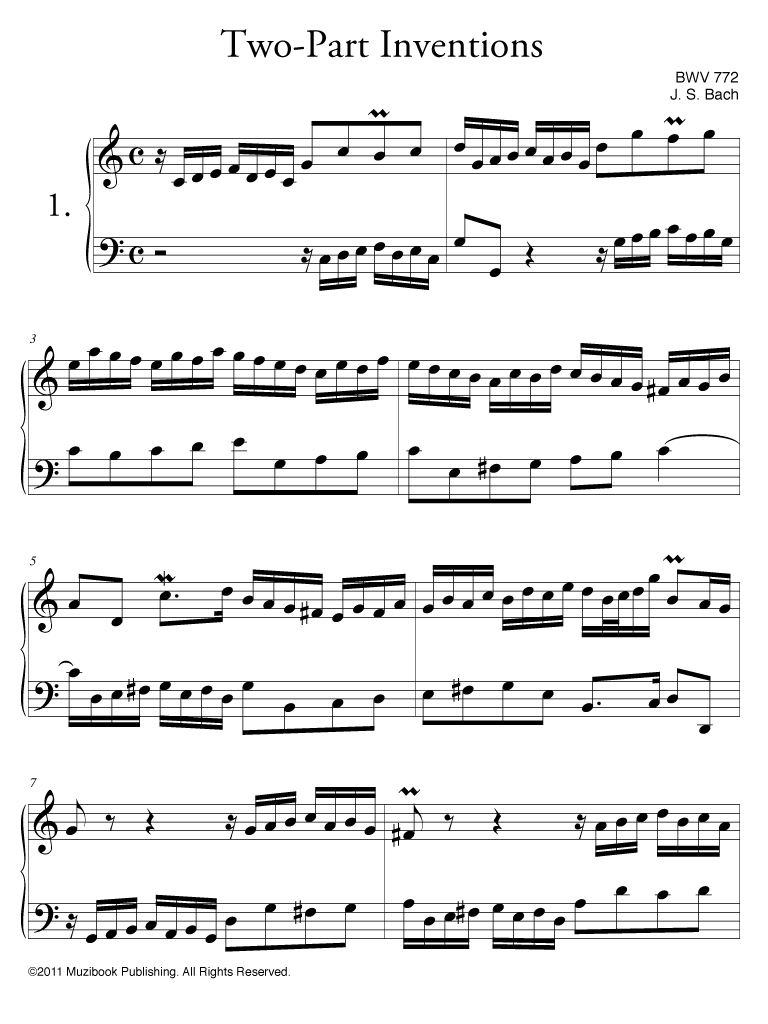 PDF sheet music optimized for iPad, tablet and laptop screens.
Two-Part Inventions BWV 772-786 by Johann Sebastian Bach. Piano. Intermediate. MCL346
"A true method by which keyboard enthusiasts, and especially those eager to study, are presented with a clear way to learn not only how to properly play two parts ... and also not only to get good ideas, but still to perform them well, and above all, to achieve a singing game, and in addition, to acquire a solid foretaste of the composition. "Such is the introduction made by Bach himself to his collection of Inventions and Sinfonies. These short keyboard compositions were originally written as exercises for the musical education of his students. As a preamble to sinfonies (inventions with three parts), the practice of two-part inventions, more accessible to novice pianists, constitutes an excellent training in the art of counterpoint.
Contents:
Invention 1 in C Major BWV 772
Invention 2 in C Minor BWV 773
Invention 3 in D Major BWV 774
Invention 4 in D Minor BWV 775
Invention 5 in E-flat Major BWV 776
Invention 6 in E Major BWV 777
Invention 7 in E Minor BWV 778
Invention 8 in F Major BWV 779
Invention 9 in F Minor BWV 780
Invention 10 in G Major BWV 781
Invention 11 in G Minor BWV 782
Invention 12 in A Major BWV 783
Invention 13 in A Minor BWV 784
Invention 14 in B-flat Major BWV 785
Invention 15 in B Minor BWV 786
About this album :
This pdf sheet music album contains interactive navigation functions allowing quick access to a page from the table of contents. It can be read on a tablet or laptop and can also be printed. For optimal use of our scores, we invite you to read the notices available on the site.