Feldeinsamkeit
march 2019
---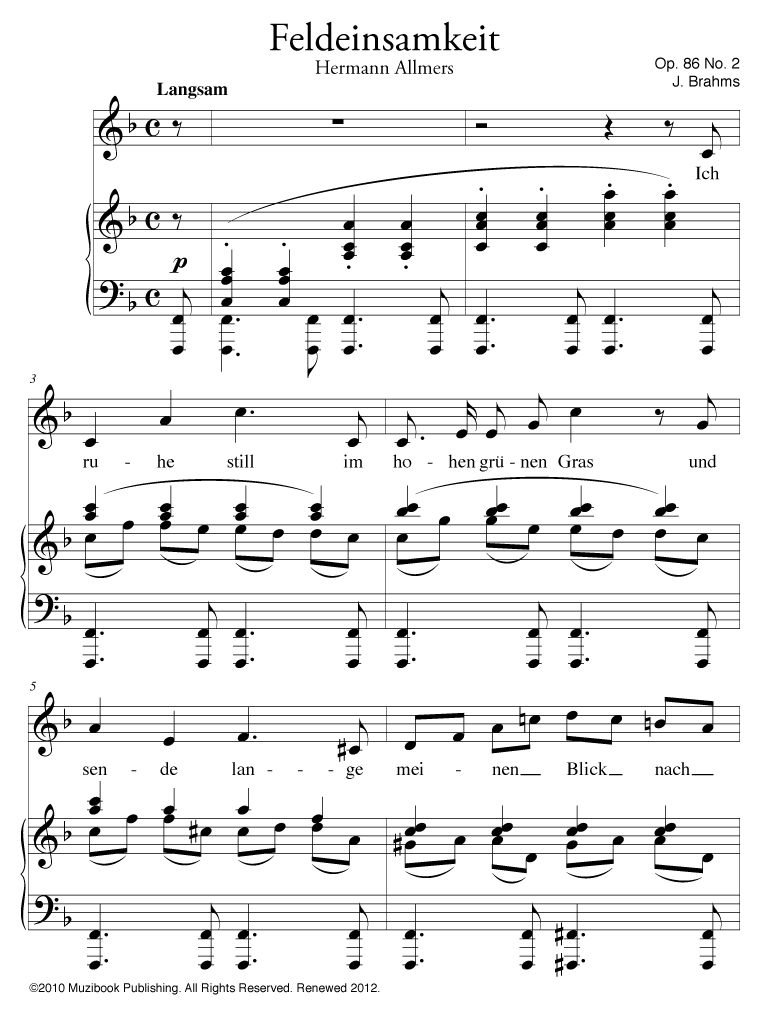 PDF sheet music optimized for iPad, tablet and laptop screens.
Feldeinsamkeit Op. 86 No. 2 by Johannes Brahms. Medium Voice and Piano. German. Intermediate to Advanced. MCL208b
Brahms composed 'Feldeinsamkeit' Opus 86 No. 2 between 1879 and 1881 on a poem by Hermann Allmers. This beloved lied still today was one of the most popular during the composer's lifetime and is one of his most important works. As such, it was printed in a separate edition by the publisher Simrock shortly after its first publication in the collection 'Sechs Lieder für eine tiefere Stimme mit Begleitung des Pianoforte op. 86', in 1882. Brahms illustrates with an impressive serenity the repose of a man contemplating the sky and clouds, alone lying on the grass tall and green imagining dead for a long time. The first chords bring us immediately in this silent dream to eternal rest on a memorable 'Langsam'. This new edition has been carefully produced and revised according to the original edition of the work.
Available as digital chapters
Publications of the same author
Publications in the same collection
Customers who bought this item also bought
Publications on related subjects