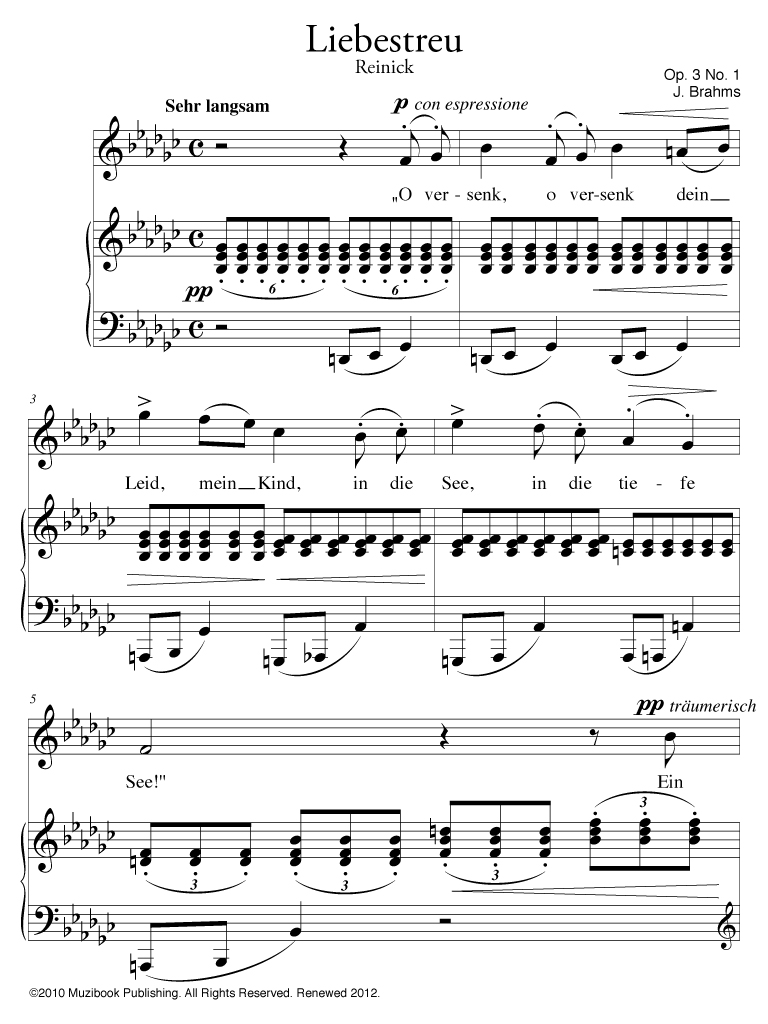 PDF sheet music optimized for iPad, tablet and laptop screens.
20 Lieder by Johannes Brahms. High Voice. Soprano or Tenor. German. Intermediate to Advanced. MCL710a
*Also available for medium voice (MCL710b).
The Brahms lieder culminates among the greatest works of the romantic repertoire and their interpretation has always been of great interest for the voice. Although the composer is mainly interested in minor poets, a large number of his musical settings have become true masterpieces with a rare creative intensity. Brahms has often drawn inspiration from the folk idioms of northern Germany, his home region. Its production spans more than forty years and totals nearly 200 lieder for voice with piano accompaniment. This collection brings together twenty of the most popular songs and is equally suitable for young singers as well as for the most experienced voices. This publication has been carefully compiled from original sources.
Contents:
Liebestreu Op. 3 No. 1
Der Schmied Op. 19 No. 4
Von ewiger Liebe Op. 43 No. 1
Die Mainacht Op. 43 No. 2
An die Nachtigall Op. 46 No. 4
Sonntag Op. 47 No. 3
O liebliche Wangen Op. 47 No. 4
Der Gang zum Liebchen Op. 48 No. 1
Wiegenlied Op. 49 No. 4
Dein blaues Auge Op. 59 No. 8
Vergebliches Ständchen Op. 84 No. 4
Sommerabend Op. 85 No. 1
Therese Op. 86 No. 1
Feldeinsamkeit Op. 86 No. 2
Sapphische Ode Op. 94 No. 4
Der Jäger Op. 95 No. 4
Wie Melodien zieht es mir Op. 105 No. 1
Immer leiser wird mein Schlummer Op. 105 No. 2
Salamander Op. 107 No. 2
Mädchenlied Op. 107 No. 5
About this album :
This pdf sheet music album contains interactive navigation functions allowing quick access to a page from the table of contents. It can be read on a tablet or laptop and can also be printed. For optimal use of our scores, we invite you to read the notices available on the site.