Die Mainacht
march 2019
---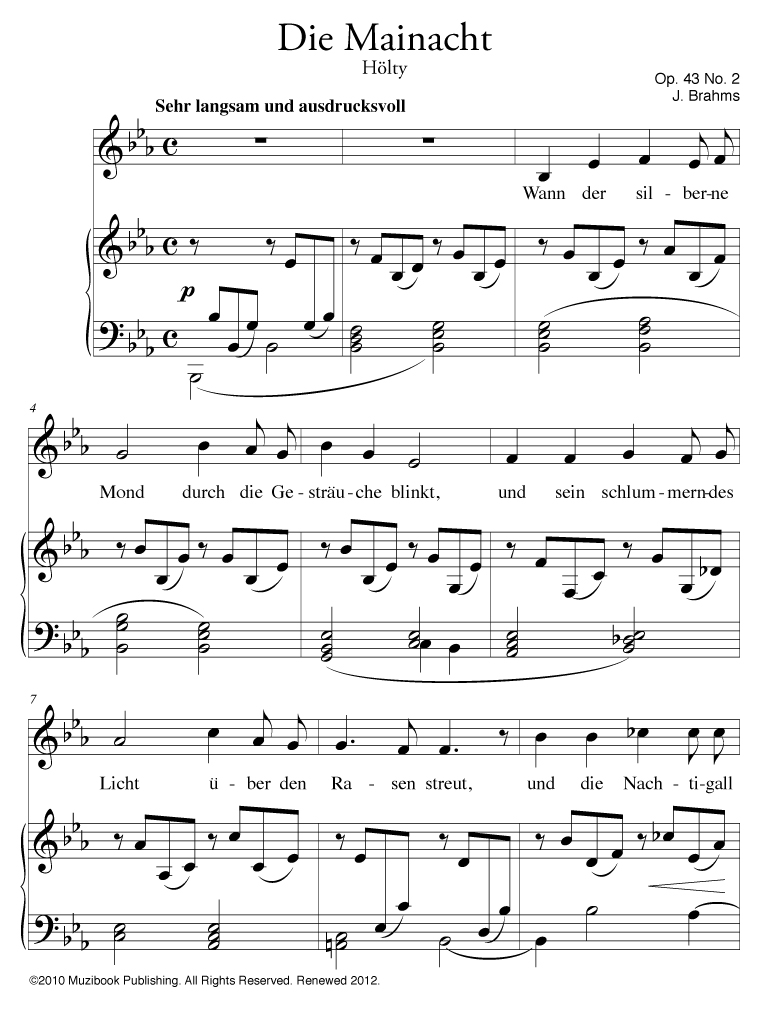 PDF sheet music optimized for iPad, tablet and laptop screens.
Die Mainacht Op. 43 No. 2 by Johannes Brahms. Medium Voice and Piano. German. Intermediate to Advanced. MCL157b
Brahms composed 'Die Mainacht' in 1866 on a poem by Ludwig Heinrich Christoph Hölty. The song will appear under opus 43 No. 2 at the publisher Rieter-Biedermann in the summer of 1868. It is one of the greatest successes of the composer in this genre largely dominated by his contemporary Robert Schumann. The poem had been used several years earlier by Franz Schubert in a strophic form and a more modest writing. Although Brahms could not claim a better musical setting of Hölty's poem than his predecessor, he exploited it in a more refined style peculiar to this new period of Romanticism. Brahms develops his writing in a ternary form ABA 'thus creating a contrast of the central part by a modulation in B major. The emotional intensity and harmonic richness of this song have always aroused the interest of the most demanding voices. The expression of loneliness is a common theme in Brahms songs and often reflects passages of his love life. This new edition has been carefully created and revised from the original sources of the work.
Publications of the same author
Publications in the same collection
Customers who bought this item also bought
Publications on related subjects