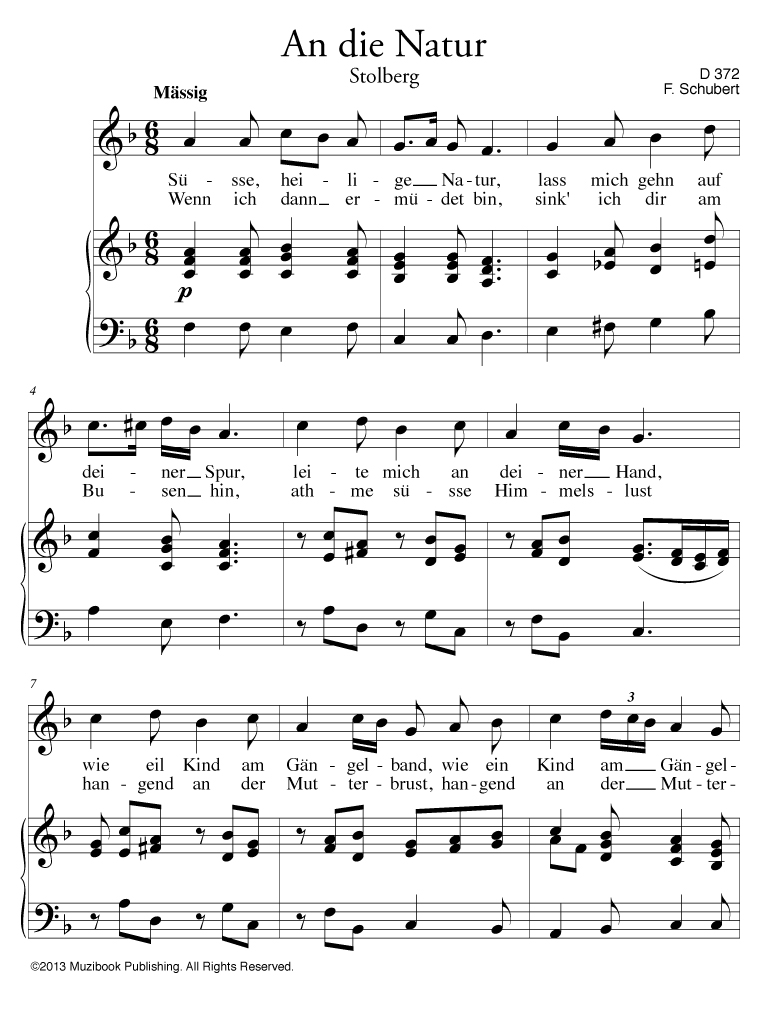 PDF sheet music optimized for iPad, tablet and laptop screens.
40 Lieder by Franz Schubert. High Voice and Piano. German. Intermediate to Advanced. MCL954a
Contents:
Abendlied D 382
Ammenlied D 122 (Lubi)
An den Mond D 468 (Hölty)
An die Natur D 372 (Stolberg)
An Sie D 288 (Klopstock)
Blanka D 631 (Schlegel)
Cora an die Sonne D 263 (Baumberg)
Daphne am Bach D 411 (Stolberg)
Das Bild D 155
Das Mädchen aus der Fremde D 117 (Schiller)
Das war ich D 174 (Körner)
Das Weinen D 926 (Leitner)
Der Gott und die Bajadere D 254 (Goethe)
Der Hirt D 490 (Mayrhofer)
Der Morgenkuss D 264 (Baumberg)
Der Sänger am Felsen D 482 (Pichler)
Der Wanderer D 649 (Schlegel)
Des Fischers Liebesglück D 933 (Leitner)
Die frühen Gräber D 290 (Klopstock)
Die Laube D 214 (Hölty)
Die Sterne D 313 (Kosegarten)
Freude der Kinderjahre D 455 (Köpken)
Geist der Liebe D 414 (Matthisson)
Hochzeitslied D 463 (Jacobi)
Huldigung D 240 (Kosegarten)
Idens Nachtgesang D 227 (Kosegarten)
Idens Schwanenlied D 317 (Kosegarten)
In der Mitternacht D 464 (Jacobi)
Lieb Minna D 222 (Stadler)
Lied des Florio D 857 (Schütz)
Luisens Antwort D 319 (Kosegarten)
Ossians Lied nach dem Falle Nathos D 278 (Harold)
Rückweg D 476 (Mayrhofer)
Stimme der Liebe D 418 (Matthisson)
Totenkranz für ein Kind D 275 (Matthisson)
Trost D 523
Vaterlandslied D 287 (Klopstock)
Wer kauft Liebesgötter D 261 (Goethe)
Wiegenlied D 304 (Schlegel)
Winterlied D 401 (Hölty)
About this album :
This pdf sheet music album contains interactive navigation functions allowing quick access to a page from the table of contents. It can be read on a tablet or laptop and can also be printed. For optimal use of our scores, we invite you to read the notices available on the site.