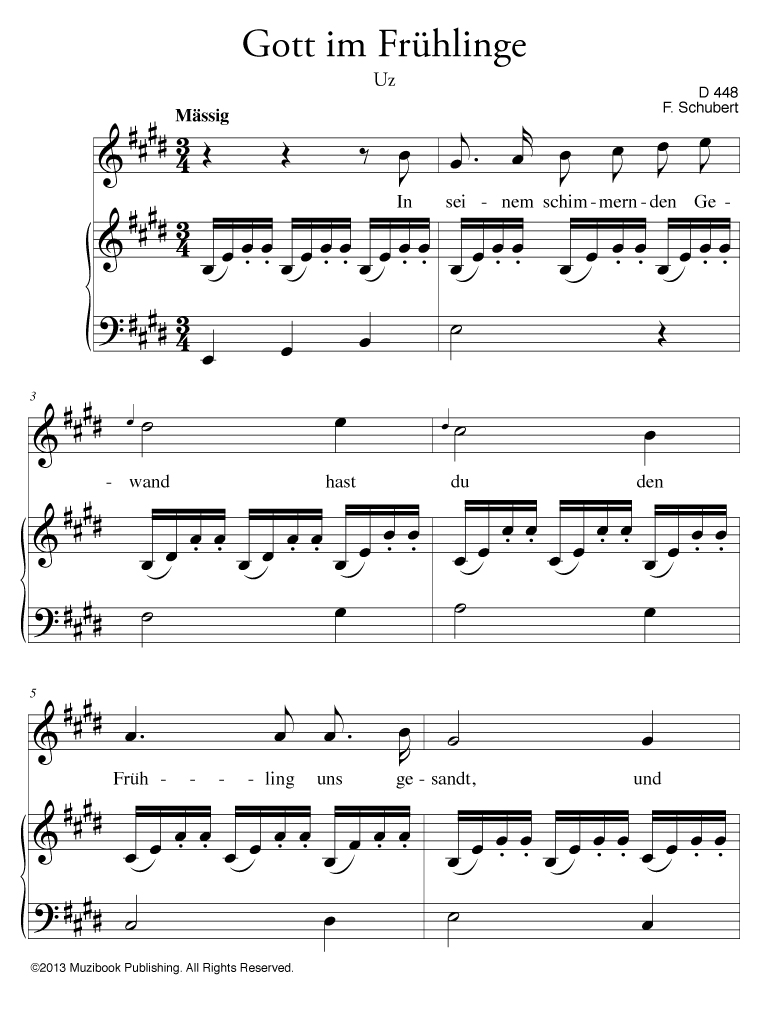 PDF sheet music optimized for iPad, tablet and laptop screens.
43 Lieder by Franz Schubert. High Voice and Piano. German. Intermediate to Advanced. MCL953a
Contents:
Abends unter der Linde D 237 (Kosegarten)
Am Flusse D 160 (Goethe)
An den Frühling D 283 (Schiller)
An die Apfelbäume D 197 (Hölty)
An die Geliebte D 303 (Stoll)
An die Sonne D 272
An Rosa I D 315 (Kosegarten)
An Rosa II D 316 - version 2 (Kosegarten)
Auf der Riesenkoppe D 611 (Körner)
Blumenlied D 431 (Hölty)
Das Finden D 219 (Kosegarten)
Das Mädchen von Inistore D 281 (Harold)
Das Marienbild D 623 (Schreiber)
Der Abend D 108 (Matthisson)
Der Jüngling und der Tod D 545 (Spaun)
Die Einsiedelei D 393 (Salis)
Die Liebe D 210 (Goethe)
Die Perle D 466 (Jacobi)
Die Sterne D 684 (Schlegel)
Die verfehlte Stunde D 409 (Schlegel)
Erinnerung ''Todtenopfer'' D 101 (Matthisson)
Fischerlied D 351 (Salis)
Frohsinn D 520
Gott im Frühlinge D 448 (Uz)
Grablied für die Mutter D 616
Hoffnung D 251 (Schiller)
Klage an den Mond D 436 (Hölty)
Klage D 371 (Hölty)
Liebeständelei D 206 (Körner)
Lied «Es ist so angenehm so süss» D 284 (Schiller)
Lied «Mutter geht durch ihre Kammern» D 373 (La Motte Fouqué)
Morgenlied D 266 (Stolberg)
Pflügerlied D 392 (Salis)
Sängers Morgenlied D 165 (Körner)
Schweizerlied D 559 (Goethe)
Täglich zu singen D 533 (Claudius)
Thekla D 73 (Schiller)
Thekla D 595 (Schiller)
Tischlied D 234 (Goethe)
Trinklied D 183 (Zettler)
Trost D 671 (Mayrhofer)
Vom Mitleiden Mariä D 632 (Schlegel)
Von Ida D 228 (Kosegarten)
About this album :
This pdf sheet music album contains interactive navigation functions allowing quick access to a page from the table of contents. It can be read on a tablet or laptop and can also be printed. For optimal use of our scores, we invite you to read the notices available on the site.