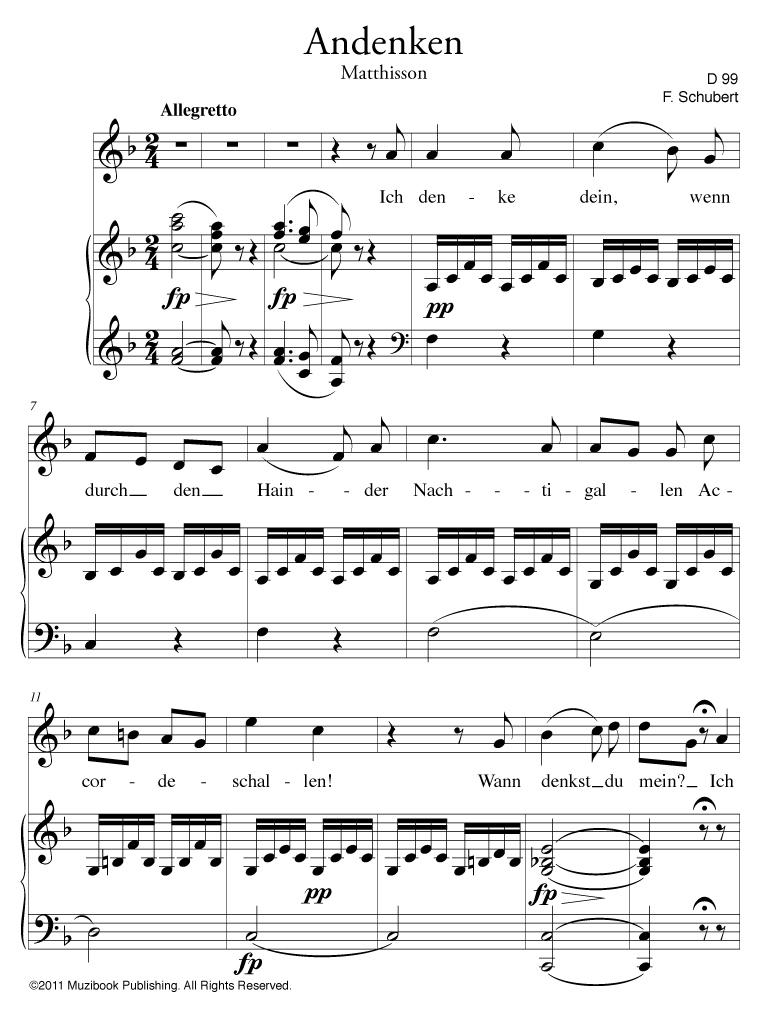 PDF sheet music optimized for iPad, tablet and laptop screens.
47 Lieder by Franz Schubert. High Voice and Piano. German. Intermediate to Advanced. MCL952a
Contents:
Abendlied D 499 (Claudius)
Abschied D 475 (Mayrhofer)
Als ich sie erröthen sah D 153 (Ehrlich)
Am Flusse D 766 (Goethe)
An Chloen D 462 (Jacobi)
An den Frühling D 587 - version 1 (Schiller)
An den Mond D 259 (Goethe)
An den Schlaf D 447 (Uz)
An die Harmonie D 394 (Salis)
An die Laute D 905 (Rochlitz)
An die Nachtigall D 196 (Hölty)
An Mignon D 161 (Goethe)
Andenken D 99 (Matthisson)
Auf den Tod einer Nachtigall D 399 (Hölty)
Aus Diego Manazares D 458 (Schlechta)
Bei dir allein D 866/2 (Seidl)
Das Geheimnis D 250 (Schiller)
Der Entfernten D 350 (Salis)
Der Jüngling an der Quelle D 300 (Salis)
Der Leidende D 432 - version 2 (Hölty)
Die Entzückung an Laura D 390 (Schiller)
Die Knabenzeit D 400 (Hölty)
Die Liebende schreibt D 673 (Goethe)
Die Sternenwelten D 307 (Fellinger)
Frühlingslied D 398 (Hölty)
Geisternähe D 100 (Matthisson)
Grablied D 218 (Kenner)
Grablied auf einen Soldaten D 454 (Schubart)
Hektors Abschied D 312 (Schiller)
Herbstlied D 502 (Salis)
Himmelsfunken D 651 (Silbert)
Hoffnung D 295 (Goethe)
In's stille Land D 403 - version 2 (Salis)
Jägers Abendlied D 368 (Goethe)
Julius an Theone D 419 (Matthisson)
Klage D 415 (Matthisson)
Labetrank der Liebe D 302 (Stoll)
Lebenslied D 508 (Matthisson)
Liebhaber in allen Gestalten D 558 (Goethe)
Lilla an die Morgenröte D 273
Marie D 658 (Novalis)
Minnelied D 429 (Hölty)
Naturgenuss D 188 (Matthisson)
Pax Vobiscum D 551 (Schober)
Sängers Morgenlied D 163 (Körner)
Schwangesang D 318 (Kosegarten)
Trauer der Liebe D 465 (Jacobi)
About this album :
This pdf sheet music album contains interactive navigation functions allowing quick access to a page from the table of contents. It can be read on a tablet or laptop and can also be printed. For optimal use of our scores, we invite you to read the notices available on the site.