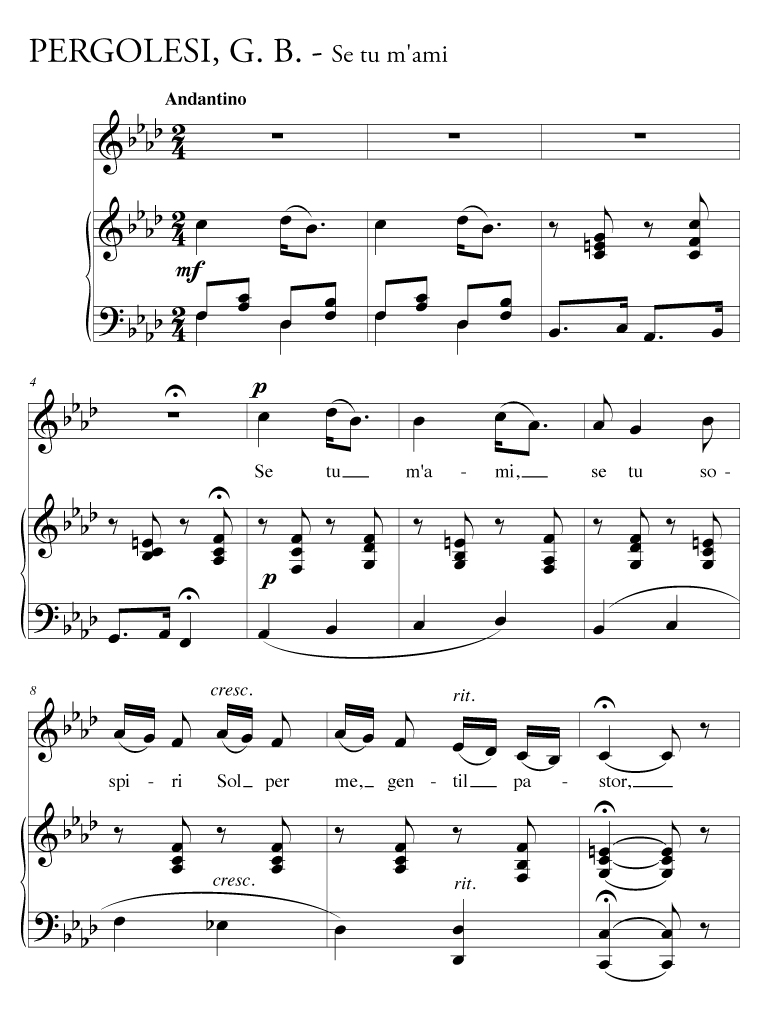 PDF sheet music optimized for iPad, tablet and laptop screens.

17 arie antiche. A. Parisotti edition. Various. Voice and Piano. Italian. Beginner-Intermediate. MCL981
Extract of the original preface by A. Parisotti:
The following airs have been gleaned from manuscripts and ancient editions that have fallen into an undeserved oblivion. In undertaking this work of exhumation, such an abundance of material was dug up, so that excluding certain tunes, which was necessary because of the modest proportions of this volume, was difficult and painful. In transcribing the melodies, the greatest care was taken not to modify the originals, and often various manuscripts were consulted to determine the most elegant and correct form. The obsolete abbreviations have been written in full, and the melodies chosen so that nothing goes beyond the reach of an ordinary voice, thus making them accessible to all. In the interpretation of these ancient tunes, therefore, a first condition is to avoid any exaggeration of the color, any tense speech. The song must be simple, natural, quiet, legato, calm tempi, without any kind of precipitation; embellishments performed with studious attention, to ensure clarity and precision; the words and the sounds welded to form an indissoluble whole, so that the listener can not fail to understand their meaning. The whole of the execution, in short, should show the delicacy of intuition and a thorough knowledge of the rules of the good Italian style; it should be at once calm, elegant, correct and expressive, but without coldness or heaviness. No unusual force is needed to sing these ancient tunes, but they require an exact reading of the notes; a minimum of good taste and a true love of learning will do the rest.
Contents:
CARISSIMI, G.
- Vittoria, vittoria!
CESTI, A.
- Intorno all' idol mio
SCARLATTI, A.
- O cessate di piagarmi
- Son tutta duolo
- Sento nel core
- Gia il sole dal Gange
CALDARA, A.
- Sebben crudele
- Selve amiche
- Come raggio di sol
PERGOLESI, G. B.
- Se tu m'ami
GLUCK, C. W.
- O del mio dolce ardor
PAISIELLO, G.
- Nel cor più non mi sento
- Il mio ben, quando verra
CACCINI, G.
- Amarilli, mia bella
DURANTE, F.
- Vergin, tutto amor
GIORDANI, G.
- Caro mio ben
MONTEVERDI, C.
- Lasciatemi morire
About this album :
This pdf sheet music album contains interactive navigation functions allowing quick access to a page from the table of contents. It can be read on a tablet or laptop and can also be printed. For optimal use of our scores, we invite you to read the notices available on the site.